This year, the brand Laimlini marks their anniversary. In 5 years, the company has created a broad assortment of products based on 3 main values: love, hand work and original design. In this article, you will find out: how the brand's founder, Laima Spude, has made her hobby an essential part of her day, why linen's clothing popularity is growing in Latvia and why zero waste fashion is a future trend.
How have you got the idea of creating the Laimlini brand? How did it all start?
How was the brand Laimlini created? Quite accidentally, as if it was a joke. In Latvia, the "Biznesa ekspresis" competition was announced by submitting business ideas. At that time I had started working as a professional-affairs educator at Ventspils Technical SChool, teaching young people business. We agreed that not only would they, but also I would participate with my own idea. There were a large number of participants, a number of selections until I entered the finals, gaining a winning seat in the contest in the Kurzeme region. The joke turned into reality! Winning the contest gave the confidence to continue, as well as the fact that simple things made with love can be appreciated. Why Laimlini? My name is Laima and our beginnings are linen, dreams come in and the brand Laimlini came together.
What materials do you use to manufacture clothing? What are the benefits of these materials?
Currently, the Laimlini brand has a broad assortment of clothing. For each designigned clothing, the choice of materials is dictated by the fashion trends and anticipated wear conditions. In the selection of materials, knowledge of fabrics, their composition and the way they are manufactured is of great importance. We choose carefully because every customer's feedback is important to us.
Laimlini T-shirts always will always be made from natural materials – cotton or linen. You will never find T-shirts of synthetic materials made by us.
Also, summer dresses, shirts, blouses and skirts Laimlini swe from natural linen and cotton. Because of the linen's good qualities – antiallergenic, natural. Preference for linen, which has been softened by "stone wash" technology. Such fabric hardly breaks at all, and linen's crumpling has been reduced. Of course, linen will always crumple, but "stone wash" linen's crumpling is aesthetically appealing. It doesn't have "sharp lines". It is important that the fabric consists of 100% linen or merely of natural fibres.
Laimlini holiday dresses and skirts are sewn from tulle and lace, velvet, decorated with silk threads, glass pearls and crystals. Tulle is a mesh-type fabric made of viscose, nylon, silk and sometimes cotton. It's soft, delicate and light by weight. When a skirt or dress has reached bushiness, several layers of till fabric are used. And the celebration can begin!
Are all the goods handmade?
All the goods made by Laimlini are handmade. Handmade means that we do not use robotic industrial machines and impersonal approach to the sewing process. We have knowledge of all technological processes, from fabric selection, design, cutting, modelling, sewing, packaging – and that is the work of our hands and mind. Of course, the sewing process uses a variety of sewing and technological equipment to ensure quality performance for the products. Every garment is sewn in small quantities, some in only one copy. It means that Laimlini is able to be different and can react quickly if changes are needed to the design models or to diversify fabric choices, at the same time we are prepared for larger volumes.
Do the residents of Latvia assess the quality of clothing materials? Why aren't linen garments so popular today?
Why do people like linen clothing? The use of linen in textiles has a long history and traditions. It is a natural material, very friendly to the human body, as well as functional, durable and firm. It greatly absorbs the humidity and dries up quickly. It deals with the sunlight very well and hardly fades at all. In my opinion, people are returning to basic values, including clothing, understanding that in warm summer days linen clothing is the most suitable in order to feel comfortable.
What is your point on sustainable fashion and zero waste fashion?
Laimlini feels proud of receiving positive feedback and reviews from customers about the clothing they have purchased earlier. It means that we create sustainable design clothing.
We are able to provide waste-free technology everyday. For example, sewing towels does not use the edge of the fabric. Many meters are cut off, then plastered in pines. The pines are used in the dressing of the original design solstice (Saulgriežu) gown. This gown is decorated with a plaited belt and plaited wreath.
Cutting linen clothing creates clothing for young children from trimmings, and another product is created from other surpluses - Laimlini bookmarks.
From tulle leftovers we make original brooches and tulle balls and ornaments for festivals.
It should be noted that Laimlini willingly supports children's creativity by returning fabric returns to various arts schools and to kindergartens, where interesting creative works are made.
More information about Laimlini:
Website:
www.laimlini.com
E-mail
[email protected]
FB and IG:
www.facebook.com/laimlini/
,
www.instagram.com/laimlini/
T: +371 29289050
Products can be seen and purchased:

In our sewing workshop: Rīgas iela 15-5, Ventspils
Webstore:
www.laimlini.com

In Latvian product and souverien shop:
Ventspils - Amatu mājā un "Vētra"
Rīga - "Lavandas", "Christmas Popup store", Rīgas lidostā "Souvenir Shop"
Kuldīga - "Zelta Apelsīns"
Cēsis – "Pie Karlīnas", "Ekobodīte"
Talsi, Valmiera - tourism and information center
We can be found in various Latvian cities – festival markets and in Rīdzenes market (T/C Galerija CEntrs), Kalnciema tirgus, RĪgas Daizaina tirgus (VEF, TC Spice), TC Rīga Plaza, markets in Doma Laukums, Esplanāde.
Our story starts from the childhood, the time when everyday things have a special meaning, the time when you believe in magic and power of the nature. We believe that looking at some simple things from the different angle is the key for inspiration. It is like dividing an apple from the other side and suddenly seeing a contour of a star: inspiration is in the eye of the beholder. We found our inspiration in an old botanical book, which pages were covered by linen flowers. After reading, researching and imagining, we created a brand new Laimlini flower, which has such a unique visual and inner content. We are proud to call 2020 a year of our new visual identity, a year when magic happens and simple things have a special meaning. This is a story about happy design made in Latvia: high-quality handmade and inspiring to change.

Yours faithfully, Laimlini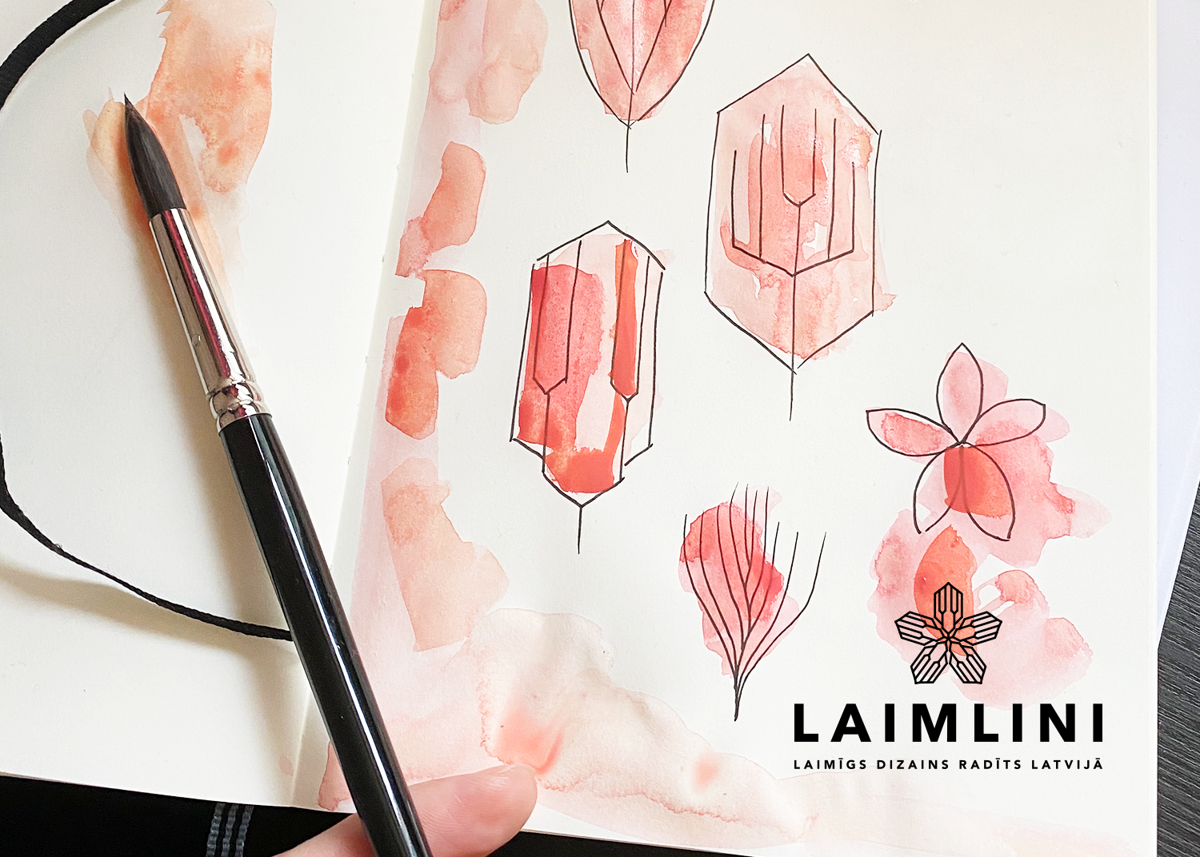 LAIMLINI – happy design made in Latvia!
In this link you can read about LAIMLINI in BaltTour 2020
http://www.balttour.lv/?link=00100020&subid=9890